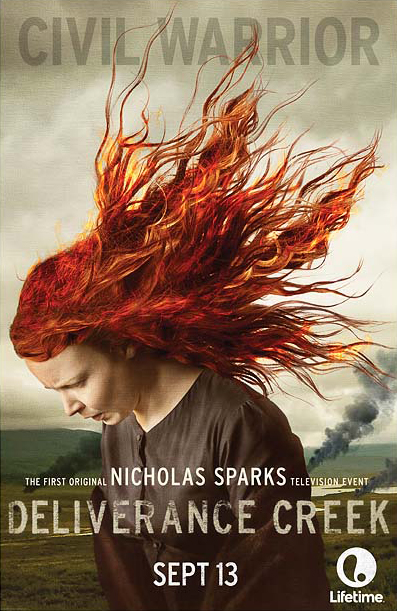 Director:

Jon Amiel

Screenplay:

Melissa Carter

Cast:

Lauren Ambrose, Wes Ramsey, Christopher Backus, Riley Smith, Caitlin Custer, Yaani King
From Executive Producer Nicholas Sparks, executive producer/writer Melissa Carter (Jane By Design, Little Black Book) and starring Emmy® nominee/SAG Award winner Lauren Ambrose (Six Feet Under), Deliverance Creek premieres Saturday September 13th 8pm ET/PT on Lifetime!
About the Show
Best-selling author Nicholas Sparks ("The Notebook," "A Walk to Remember," "Safe Haven") makes his television debut as executive producer of the two-hour programming event "Deliverance Creek." "Deliverance Creek" is a revenge drama centering on a widow and mother of three who is determined to protect her family and land at any cost during the Civil War. 
Two years into the Civil War, Belle Gatlin Barlowe (Lauren Ambrose) faces uncertainty in the life before her as she attempts to defend her family's land by any means necessary.  When the corrupt bank that runs their town pushes Belle into becoming an outlaw, the stakes become personal, setting off a chain of events that force her to question whether it's better to be good or to survive.