Mar 09, 2022 | Book News

Exciting News! My new book, Dreamland, will be available this September.
I'm writing to share the news that my new book, Dreamland, will be available in stores on September 20th and to give you a first look at its beautiful cover!
Dreamland will be my twenty-third novel, and I can tell you that I found writing it to be just as much of a pleasure as writing my first novel, The Notebook, back in the mid 90s. Throughout all these years, each story has introduced new, interesting characters with their own unique strengths and challenges and Dreamland is no exception. I'm incredibly excited for you to meet Colby, Morgan, and Beverly.
At first, these three characters seem completely different from one another but as their stories unfold, deep similarities become apparent and fate draws them together in ways that are … difficult to describe without giving too much away! You can find out more about Colby, Morgan, and Beverly on the Dreamland page of my website along with a list of online retailer links where you can preorder your hardcover, audiobook or ebook edition of Dreamland today.
You'll be hearing from me again in the coming months with exclusive previews of Dreamland, opportunities for you to enter to win some great summer and fall reader giveaways, and where I'll be stopping on my book tour in September. Until then, I wish you all the best for a happy and hopeful spring
Sincerely yours,

P.S. If you've had a chance to read my most recent novel, The Wish, but haven't let me know what you think yet, please post a message about it for me on Facebook, Twitter or Instagram. It's also wonderful to see honest reader reviews of my books shared on Goodreads and Amazon. I always appreciate connecting with readers online and want to hear from you!
---
From the #1 New York Times bestselling author of The Wish comes Dreamland, a poignant love story about risking everything for a dream—and whether it's possible to leave the past behind.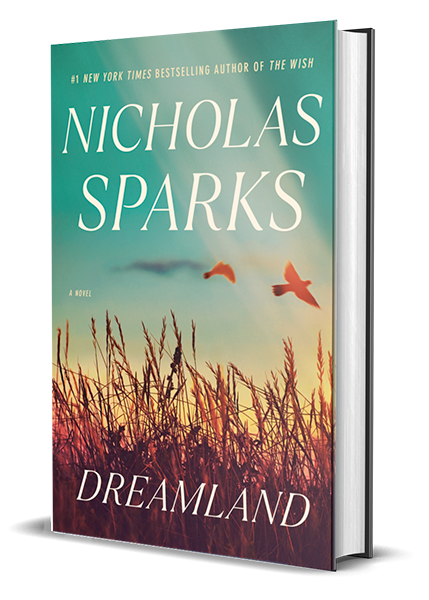 Preorder your copy of Dreamland today!
Dreamland will be available in stores on September 20th and is available for preorder now in hardcover, audiobook and ebook editions from many online book retailers including Amazon, Apple Books, Barnes & Noble, Books A Million, GooglePlay, Target and Walmart as well as from your favorite local and indie bookstores at Indiebound.

Online preorders are also available for readers in Australia, Canada, New Zealand and the United Kingdom.