Sep 29, 2020 | Book News, From Nick

The Return is now available!
I am looking forward to my new novel, The Return, being out in the world and hearing what all of you think. I'm also looking forward to seeing some of you on my socially distant book tour (details and ticket information can be found here on my website). I am grateful to be able to support booksellers during these challenging times, and I appreciate everyone who has worked so hard to make these events possible and safe.
If you can't make it to an event in person, I hope you'll tune in online for my virtual event on September 30 with author Elin Hilderbrand. It will be hosted by Warwick's, the country's oldest continuously family-owned and operated bookstore, and they, along with other select independent bookstores across the US, are offering a limited number of signed copies of The Return for reader pick up or delivery.
There is also a special offer for my readers from Walmart right now. With any in-store purchase of The Return, you can receive your choice of a free Nicholas Sparks audiobook (details will be on your store receipt).
The Return is set in my hometown of New Bern, North Carolina, which has been a constant source of inspiration for me. Additional inspiration for the book came to me in other ways, which I've shared in this video: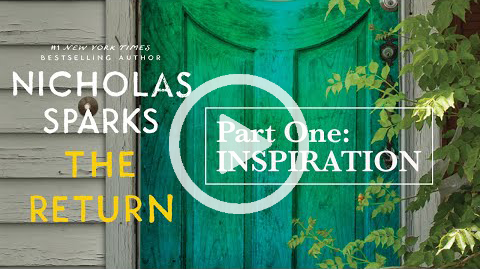 Again, I look forward to connecting with you – online, in person or whatever way it will be – during my book tour in the coming weeks. In the meantime, be safe and well.
Sincerely yours,

P.S. If you finish The Return and need some other books to read, here are some that I've been enjoying lately:
The Nickel Boys by Colson Whitehead Winner of the 2020 Pulitzer Prize for fiction, The Nickel Boys is loosely based on events that occurred at the Arthur Dozier reformatory school in Florida. In the novel, the reformatory school is known as The Nickel Academy and it tells the story of Elwood Curtis and the abuse he suffered there. His only friend, another boy named Turner, tries to teach Curtis lessons for survival in what he views as a cruel world. The language and writing style make the entire story sing with authenticity while the slowly mounting horror keeps the pages turning. It is a novel that will make you think.
Show them You're Good: A Portrait of Boys in the City of Angels the Year Before College by Jeff Hobbs This non-fiction book follows four young men as they prepare for college; all four are deftly drawn, and the reader can't help but reflect back on that stressful period of their own life. The book follows them through various adolescent rituals, while highlighting the personal challenges that each of them face. Above all, it's simply well-written.