Dec 18, 2019 | Book News, From Nick

New Book Announcement
I'm excited to announce that my new book The Return will be available in stores on September 29th! The Return is the story of Trevor Benson, an orthopedic surgeon who returns to New Bern, North Carolina after he is injured in Afghanistan and meets two women whose secrets will change the course of his life. I really enjoyed writing this book and I can't wait for you all to read it. You can pre-order your copy today from Amazon, Apple Books, Barnes & Noble or Indiebound and find out more about the book here on my website. Last but not least, my email subscribers will continue to get exclusive updates on The Return directly from me as they are announced so if you haven't already, I hope you'll sign up for my email mailing list now.
In the meantime, thank you to everyone who has reached out on social media over the last few months to share how much they enjoyed my most recent novel, Every Breath. Now that the book is available in paperback, many readers are discovering it for the first time and their response has been heartwarming. If you haven't had a chance to read Every Breath yet, I hope you can find a quiet moment during the upcoming holidays to do so.

Speaking of the holidays, my publisher recently held a #SantaSparks giveaway for my social media followers on Facebook and Twitter and, today, they kicked off a special Every Breath Gift Set Giveaway exclusively for my mailing list subscribers. Five lucky winners will be randomly drawn to receive an Every Breath journal and signed paperback edition of the book. Ho Ho Ho!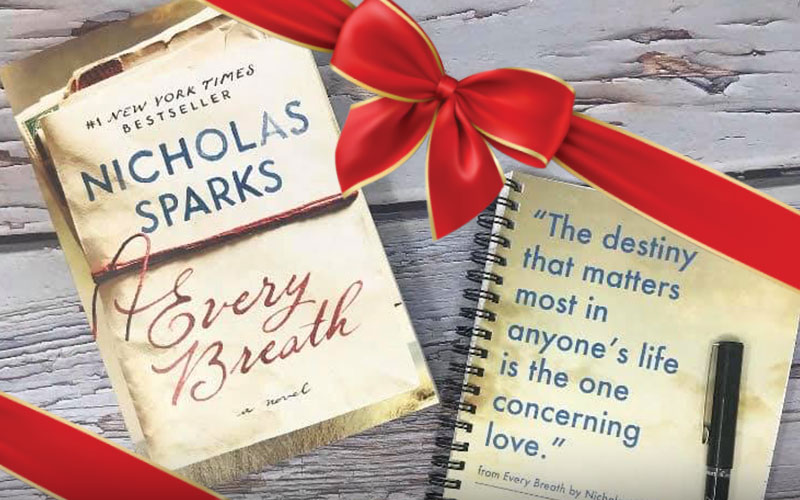 May you have a happy and healthy holiday filled with love and laughter.
Sincerely yours,