Jan 21, 2015 | Book News

PetSmart Charities Adoption Story Winner
I was so honored to participate in PetSmart Charities "Fall into a Nicholas Sparks Love Story Contest." Animals, and dogs in particular, have always had a special place in my heart. I loved introducing you to my rescue dogs, Bo, Boomer, and Suzie, and I had a great time reading all of the stories that were submitted about your rescue dogs and cats. For this reason, it was very hard to choose a favorite, but the story of one pet did stand out: Smokey.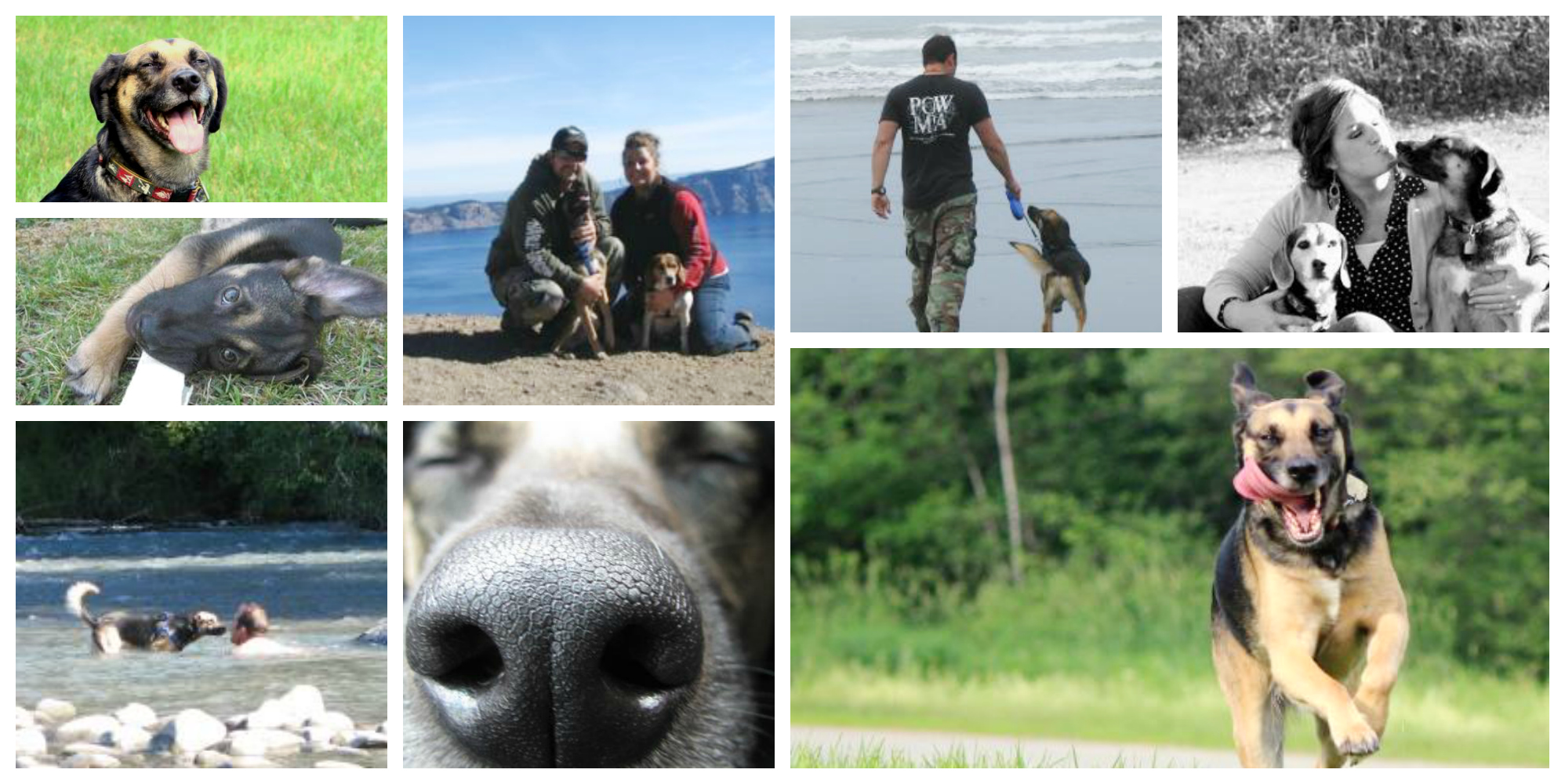 Beyond the irresistible pictures of Smokey—I have a soft spot for German Shepherds, having owned a few myself over the years—Smokey's impact on his family was truly touching. As many of you know, I've been a strong supporter of our veterans for years, and the way in which Smokey brought love and support to a family dealing with PTSD stuck with me. I've featured dogs in a couple of my stories through the years—Singer in The Guardian and Zeus in The Lucky One, who was inspired by my own German Shepherd, Rex—so I'm looking forward to bringing Smokey into my next story. I'm currently writing away, and I'm looking forward to sharing it with you as soon as it's finished.

Storm Shelter: The Love of a Dog and PTSD
Adoption story submitted by Karen W. from New Hampshire
If there is one thing in life you can depend on, it's the unconditional love of a dog. Where to start? Smokey is an angel, in the form of a German Shepherd mix, that came into our lives in the spring of 2007. We were stationed at Fort Bragg, NC while my husband trained to be a special operations medic in the Army. During our time at Ft. Bragg, the Fayetteville PetSmart hosted pet adoption weekends on a regular basis, and even though we had a 2 year old beagle and were not in the market for another dog, we visited each weekend because we loved seeing and visiting with the dogs. One Saturday while visiting the adoptable dogs, there in the back of one of the crates we saw this little black and tan fluff ball. He was timid and quiet in the midst of all the other lively dogs around him. We asked to hold him, and instantly we were in love. This dog was for us. However, adopting a dog is a serious decision and is a lifelong commitment- you don't just change your mind a couple months or years later, and being in the military our future was not in our control. So we asked the volunteers if we could think about it, and they said to sleep on it and they would hold the dog until the next day. That Sunday we drove back to PetSmart, still uncertain on the big decision ahead but excited to see the dog we had felt such a strong connection with the day before. When we got there another family was holding him. It was a large family with multiple children, and when we saw him surrounded by so many people something solidified inside of us that this dog needed us. I'm sure those kids would have loved that dog, but he looked scared and overwhelmed by the commotion. Right then, we made up our minds and started the paperwork. We left PetSmart thinking we saved this dog, but little did we know- he saved us.
Within the first 10 minutes after leaving PetSmart we started learning about his quirky personality. Here we were on the way home with our brand new puppy, when all of a sudden he let out this shriek- out of nowhere, and then he was pooping on my back seat! We learned early that Smokey doesn't make much noise, but when he does- he means it! No harm done to the seats, but it's funny how quickly you learn their warning signals. To this day, he starts panting when he has to go #2; we call it his "poopy pant". He is a very intelligent dog and was completely potty trained in 2 weeks, with only 2-3 accidents in the house. I think sometimes "shelter dogs" get a bad reputation, but Smokey is the most intelligent, well behaved, and compassionate dog I've ever known (no offense Benjamin- our beagle). Bringing Smokey into our family was one of the best decisions of our life; it helped Benjamin curb some naughty behaviors and filled our little family with more love and definitely more laughter. Smokey is now age 7 and still is his quiet self, except for his daily greeting when I arrive home from work. As I change into my workout clothes, he'll start wagging his tail and follows me around until I get downstairs and he then lets out this low grumble/howl because he knows it's that time of day- walk time, his utmost favorite! It makes me laugh, every single time.
Even though we got Smokey as a puppy (age unknown), we think he had a traumatic start. He has always been extremely shy, skittish, and fearful of almost everything. He still runs upstairs when I sit down to fold laundry, if he hears any loud noises, or if strangers come over. However, even though he lives in fear he has always been so loving and gentle, and never aggressive. He still is a nervous wreck when riding in a car. He shakes and pants and hides on the front passenger side floor. When we moved from Fort Bragg NC to Fort Lewis WA his preferred spot in the U-Haul was under the seat. We wound up making a safe space for him down there once we saw that was where he preferred to ride. One stormy night while staying in a cabin on the beach in WA, we heard a commotion and when we turned on the light there was Smokey curled up in the bottom shelf of the night stand shaking like a leaf. Where we live now, our refrigerator forms a small nook in the corner of our kitchen; he hides there so often that we put a bed there for him. When he is really scared, we pull the drawers out over his head, and then drape a blanket over them, this becomes Smokey's storm shelter. He also frequents the back of my bedroom closet as another safe place and sports his ThunderShirt on occasion. When Smokey's not scared, he's the most laid back, lazy, and calm dog I've ever met.
In 2009 my husband deployed to Afghanistan for the first time. The moment I walked through the door after dropping him off, I collapsed to the floor of my mud room and started sobbing and gasping for breath. In my mind, I didn't know if I would ever see my husband again. I remember the raw emotion so clearly, and it still brings tears to my eyes to relive that feeling of fear. As I cried on the floor, my dogs immediately came to comfort me, lick my tears and just hover over me- they could sense my distress. They became my rocks, my support, and my "people" during my husband's deployments. I was thousands of miles from home with no real support system. I always had a complete breakdown on the days he left, but the next day it was on to auto pilot with a routine locked in. This is where having the dogs helped- they gave me purpose, someone to take care of. We had our daily walks, feedings, and many conversations about daddy. I don't know what I would have done without my dogs; they truly pulled me through some of my darkest moments. There is an inexplicable bond you form when you go through something like that together; even if they don't talk back, you know that they understand what you're going through in that moment and most importantly, they are there for you. Our families back home still had to deal with their son, brother, uncle etc being gone, but they had each other and their normal lives to pass the time. For me, it was me, my very raw emotions, the dogs and time.
Our time in the Army came to an end, so we packed up and moved back home to New Hampshire. By now, the dogs were pretty well traveled, having gone coast to coast and everywhere in between. We have thousands of pictures with them in all sorts of places; Yellowstone, Badlands, Little Big Horn, Olympic National Park, Redwoods, Crater Lake, etc… (So, yes, you can still get out and see the world with dogs!). When we arrived home we stayed with family. It was pretty stressful trying to return home to a normal life. Things weren't normal, and they never would be again. We finally rented a place and slowly began to attempt to transition back into civilian life. Life went from go go go, stay alive, to STOP. Then it seemed everything caught up to us at once. The last 5 years hit us like a brick wall. My husband started to feel the extent of all the mental and physical injuries he incurred while in the Army but had been ignoring out of pure necessity to survive. He found it hard to be around people, even family. Since Smokey deals with some of the same anxieties, I think they formed a special bond and found comfort in each other's company. Smokey's demeanor and gentle spirit have a calming effect on my husband. PTSD is a very real injury that is not easily remedied or understood, and if anyone has ever dealt with it they know it comes with many emotions that can be random, fast and volatile. It's hard to put into words the effect Smokey has had on my husband because he doesn't do anything heroic. There is just something about him that reaches into the depths of your soul and fills a void. It's like he understands the pain and promises to love you through it all. He provides unconditional love and trust, two things that can be hard to find at times in this world.
Each day I am overwhelmed with love when I look at my dogs and think about what they mean to me and how they have enriched our lives. Especially Smokey, day after day he continues to teach us to have compassion and tenderness towards those who live with fear, and that we can find refuge in one another. He is peace in the midst of a long tempestuous storm.
I can't imagine anyone not loving this dog. So, I want to say thank you PetSmart for petitioning on his behalf, because this little sensitive ball of fur not only kept me together when all I wanted to do was fall apart but he also continues to be a source of comfort to my husband when he feels like the world is against him, and no one understands what he is going through. I can't imagine walking through the door without my quirky little Smokey there to greet me and roll on my feet when I take my shoes off. He really does light up my life and continuously makes me laugh!
Even if we don't win this contest, I want to let the shelter volunteers know that all of their work makes a difference and that they are not only helping the dogs, but changing people's lives as well. So, thank you to the Fayetteville NC PetSmart, the Haven-Friends for Life No-Kill Animal Shelter, and to Nicholas Sparks for supporting and recognizing the need and many benefits of pet adoption. You are helping make the world a better place, one forever home at a time.