Last month, I had the pleasure of traveling to New York City to visit with my longtime friends and colleagues and to prepare for the upcoming release of my latest novel, The Wish. It was a whirlwind of activities — from pre-signing books to interviews and recording behind-the-scenes videos — and I couldn't be more excited knowing that you'll be seeing all of it soon, especially since parts of The Wish also take place in NYC.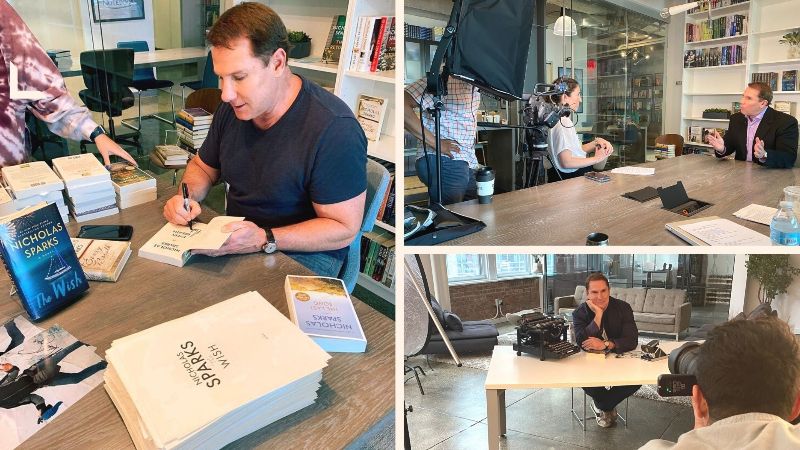 With the release of each new book comes my favorite part of being an author: meeting with you in-person during the book tour. While the details for the tour's virtual events are still in the works, I'm excited to be able to share these in-person tour stops with you now.
Monday, Sept 27 w/ Books & Greetings in Northvale, NJ (get tickets)
Tuesday, Sept 28 w/ Booktowne in Manasquan, NJ (get tickets)
Wednesday, Sept 29 w/ A Likely Story Bookstore in Baltimore, MD (get tickets)
Thursday, Sept 30 w/ FoxTale Book Shoppe in Woodstock, GA (get tickets)
Friday, Oct 1 w/ Vero Beach Book Center in Vero Beach, FL (get tickets)
Saturday, Oct 2 w/ Barnes & Noble, The Arboretum in Charlotte, NC (get tickets)
Sunday, Oct 3 w/ Books-A-Million in New Bern, NC (get tickets)
Similar to last year's book tour for The Return, special arrangements have been made to ensure everyone's safety.* I sincerely hope to be able to see you on the road, but if you don't feel comfortable attending an in-person event, please reach out directly to one of our bookseller event partners so that they can help you preorder a signed copy and make arrangements for pick up or shipping.
As I hear from readers who have preordered The Wish, and anticipation builds for its September 28th release date, I can't say enough about how excited I am for you to read it. I also want to mention that a handful of lucky readers have won advance copies of The Wish through Goodreads Giveaways and more winners will be randomly selected this Sunday.
One last thing to note is that my recently reissued memoir, Three Weeks With My Brother, is currently featured as a Target Summer Reading selection. I'm humbled to have it included alongside so many other great summer reads and by the overwhelmingly positive comments sent from readers that have enjoyed the book over the years.
You'll hear from me again next month with more book news and, in the meantime, I wish you a happy and healthy end of summer.
Sincerely yours,